Suppose you are all set to enjoy your favorite TV show. The second you sit on the couch and open the Spectrum TV to watch the show, but Spectrum TV app is not working and throws error code.
You have no clue what it is? You want to get rid of them, but it keeps coming back again and again.
You're at a loss for what to do. You're irritated! Trying to figure out what's going on but can't. This is making you crazier. To lessen your frustration, let me tell you. It's nothing but a cryptic Spectrum error codes.
This type of code indicates that something is wrong with your device and that you should solve it as soon as possible.
However, how can we fix Spectrum TV app errors? We are not technical nerds!
What if I told you that you could? Yes, this troubleshooting guide will explain these spectrum error codes, how they differ, and how to fix them so that you can watch your favorite show uninterrupted.
Let's begin.
What is Spectrum Error Code?
An error code is a specific number that tells you something is wrong with the equipment or service you are trying to access. The main aim of this error is to help the spectrum users to diagnose the problem and determine the root cause of an issue at hand.
Spectrum TV Error Codes List
Spectrum Error Code IA01
Spectrum Error Code HL1000
Spectrum Error Code SLC-1000
Spectrum Error Code RGE-1001
Spectrum Error RLP-1025
Spectrum Error STBT-3801
Spectrum Error Code ER01
Spectrum Error 56032
Spectrum Error Code E208 and Error Code E211
Spectrum Error Code RLP-1006
Spectrum Error Code 3014
Spectrum Cable Box Says e-8
How to Fix Spectrum TV Error Codes?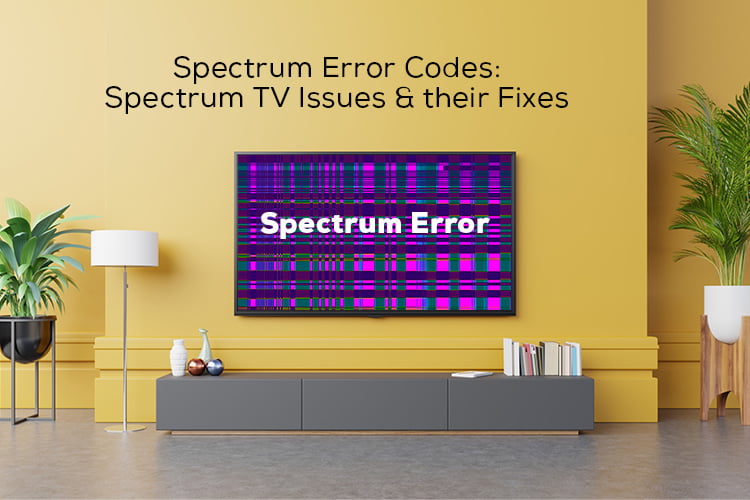 1. Spectrum Error Code IA01
This spectrum error code IA01 is a widespread problem many users face, and it usually occurs because of poor internet connectivity. Your channel application cannot get the message from the internet device to the server.
One of the primary causes of this problem is a slow internet connection. The second is due to a technical fault or malfunction on the channel end.
How to fix?
Here are some of the methods how you can fix the IAO1 code:
Restart the Cable Box: One of the best and easiest ways to resolve this problem is to restart the cable box and wait patiently for 4 min. The memory will refresh automatically and establish stable and new connections.
Check the Cables: As the main reason for this error is an unstable connection, it might be a good idea to check the cable and see if it is correctly connected to the device. Sometimes, due to unfitted cable, this issue can occur.
2. Error Code HL1000
This is one of the most unpopular types of errors in spectrum TV. The primary cause of this type of error is a failed starting attempt by your device, or the application UI is not correctly synced with the TV.
How to fix?
Refresh the Spectrum Receiver: One of the best ways to fix this issue is to refresh the spectrum receiver. This restores the device and clears all the logs and momentary bugs causing the problem.
Try to Unplug the Receiver: The second best way to solve this issue is to check the plugin of the receiver. Try to unplug the spectrum receiver from the power and wait for a while before plugging the cable. This process will definitely solve the problem.
3. Error Code SLC-1000
This error code means your app could not complete the request you made. It appears when you look for a particular channel and find none. This prevents social media material content from appearing.
How to fix?
To fix this issue, restart your Wi-Fi router. Then restart the app and try again. You may see the problem may be resolved soon.
4. Error Code RGE-1001
This error code only occurs in Roku devices. If you see this error code on your device, the Spectrum TV service is unavailable. This might be due to a problem with your internet connection or an issue with the spectrum itself.
How to fix?
If you see this error message, check all the Wi-Fi connections. Making them secure if there are any loose connections should solve the problem. You may need to reboot your WiFi if that doesn't solve the problem.
5. Error RLP-1025
This issue happens when specific software is not working and has a technical fault. According to the firm, you cannot resolve this problem because a malfunctioning server causes it.
How to fix?
If this problem happens, don't be concerned; wait for it to resolve itself. You can view other shows while the service is being fixed.
6. Error STBT-3801
This spectrum error 3801 refers to the fact that your dynamic random access memory (DRAM) has failed or that the cable box is experiencing a technical issue.
How to fix?
To solve the STBA-3801 and STBA-3102 Spectrum error codes, restart the cable box, unplug the box from the wall, and plug it back in after 5 minutes. You should reset your equipment through your Spectrum account if the issue continues.
7. Error Code ER01
This error occurs when you are streaming using a cable box. This error means that the (DRAM) has developed some error or it has failed.
Luckily, it's not an indication of a software or DRAM issue. It just means that the DRAM might lose some packets that might cause it. Resolving such an issue requires a lot of technical knowledge.
How to fix?
To temporarily resolve this issue, tap the 'Exit Button' on your remote and restart your broadcast.
You might have to reset the Cable Box to resolve this error permanently. Upon reboot, it is going to work perfectly fine.
This is the best method of resolving this error code permanently. If you are getting this error code repeatedly, you might also have to reset the Cable Box, and in extreme cases, the DRAM might be replaced entirely.
8. Error 56032
This spectrum code often appears when a software device has a registry problem, or system files are improperly set. The fact is that cable boxes have a wide range of characteristics that appeal to TV servers.
People adore watching their favorite TV shows. But if the Spectrum problem 56032 happens, it will prevent customers from continuing to watch their preferred TV episodes by stopping the streaming service. You will not be able to proceed to the next episode of your favorite show.
How to fix?
Check if the media file is correctly configured.
Keep your software up-to-date
Start your Spectrum cable box again.
Reset your Spectrum TV box.
9. Error Code E208 and Error code E211
These two errors are some of the most rigid errors to resolve. When this issue occurs, it means that the VOD order is incomplete. This means you won't be able to access the full video-on-demand service, which can affect your streaming service.
How to fix?
Video on Demand services may be inadvertently inaccessible. In such a case, you may contact support, and they will assist you in resolving this issue on their end. Support is immediately accessible via live chat.
You can also check to see if you have any with your account. Be it in the notifications or any updates you might have missed. You should also check the subscriptions page to determine if you are still an active member.
You may also reset your Cable Box, or there are detailed instructions on this page to solve this exact problem.
10. Error Code RLP-1006
The RLP-1006 is another Roku-specific error number that indicates that the device could not play the streaming service you wanted.
How to fix?
To fix this, make sure you are connected to the internet.
Then restart the Spectrum TV app and try again.
Try accessing other channels in the app as well.
11. Spectrum Error Code 3014
This kind of error can only be seen in the Spectrum TV app for Windows 10. The problem might be caused by distorted registry files in the app.
How to fix?
This type of issue is quite easy to resolve and is typically automated. So,
Select Update & Security from the Settings menu.
Select Recovery > Advanced Startup > Restart Now
During the restart, Select Troubleshoot > Advanced Options
Choose Automatic Repair to fix the faulty registry entry
12. Spectrum Cable Box Says e-8
This error usually occurs during the starting process for the spectrum cable box.
How to fix?
Ensure that the extension box is not overloaded with too many devices.
Restart the receiver and try again.
Do not connect more than one device to the extension box.
Conclusion
These are some of the most common error codes you could see while streaming on the Spectrum app. These problems are caused by various factors, including a poor internet connection, a server outage, and incorrect login information. The majority of the error codes are generated by unreliable internet connections and programs that are not available on the servers.
These issues can be resolved with a simple troubleshooting trick: A restart. A specific internet-related difficulty can be solved by connecting to a safe and consistent home Wi-Fi connection.
By following the ideas and suggestions in this article, you should be able to eliminate the majority of the error codes, whether they are permanent or temporary.